Transmedia Trends Report 2021
In this short report, I outline the transmedia trends from 2020, from storytelling and media events to emerging business models. This year was shaped heavily by the Covid-19 pandemic and its impact on the creative industries. How have media producers and consumers acted upon the pandemic? What does this new normal look like?  What were the notable innovations? By drawing from a range of examples, I draw connections and comparisons and look forward.
Digital acceleration
The mega trend this year is digital acceleration, largely driven by the Covid-19 pandemic. Streaming, esports and gaming have flourished as global consumers were in lockdown. While companies like Disney faced losses at the box offices and their theme parks, Disney+ proved lucrative. Their new announcements for the streaming service are largely build around transmedia as a business model, expanding their existing IP's with new shows in the Star Wars universe, as well as unexpected reboots (e.g. Dinosaurs, Firefly) and live-action adaptations (e.g. Pinocchio, Peter Pan).
With offices closed, our work lives became dependent on Zoom, Skype and Discord. From virtual scavenge hunts and hang-outs to Zoom dates, teleconferencing software facilitated many new practices. In Mapping the Next Normal, Pulsar describes these channels as a "metaverse", consisting of virtual worlds, streaming services, decentralized tech such as Zoom and Bitcoin, and finally the thriving business of eCommerce.
In terms of transmedia content, 2020 will go down as the year of TikTok, Twitch and Animal Crossing: New Home, adding a layer of narrativity and playfulness to our domestic lockdown experiences.
Virtual experience economy
Events, conventions, theaters and museums considerably had to rethink their business models. Other performers, such as drag queens, missed the income from their shows. Different online initiatives emerged, most notably the Digital Drag Show on Twitch, spearheaded by Biqtch Puddiń. These virtual performances allowed drag queens to at least make some revenue in these difficult times. Instead of cash tips, audiences could pledge a suggested donation of $10 to Venmo, PayPal or CashApp.
A similar trend emerged in the convention scene, where virtual events also skyrocketed. Different conventions hosted virtual programs on the dates in which their offline conventions would have taken place, such as Emerald City Comic Con, Comic-Festival Fumetto and Wannacon. Many of these are virtual events were also organized with artists, collectors and vendors in mind, who lost income due to these cancellations.
Sports matches also experimented with different ways to go virtual, from noise apps to virtual fans and cardboard audiences. Sincethe pandemic is far from over, I expect this virtual business models will persist, be pushed to new limits, and lead to hybrid forms the coming years.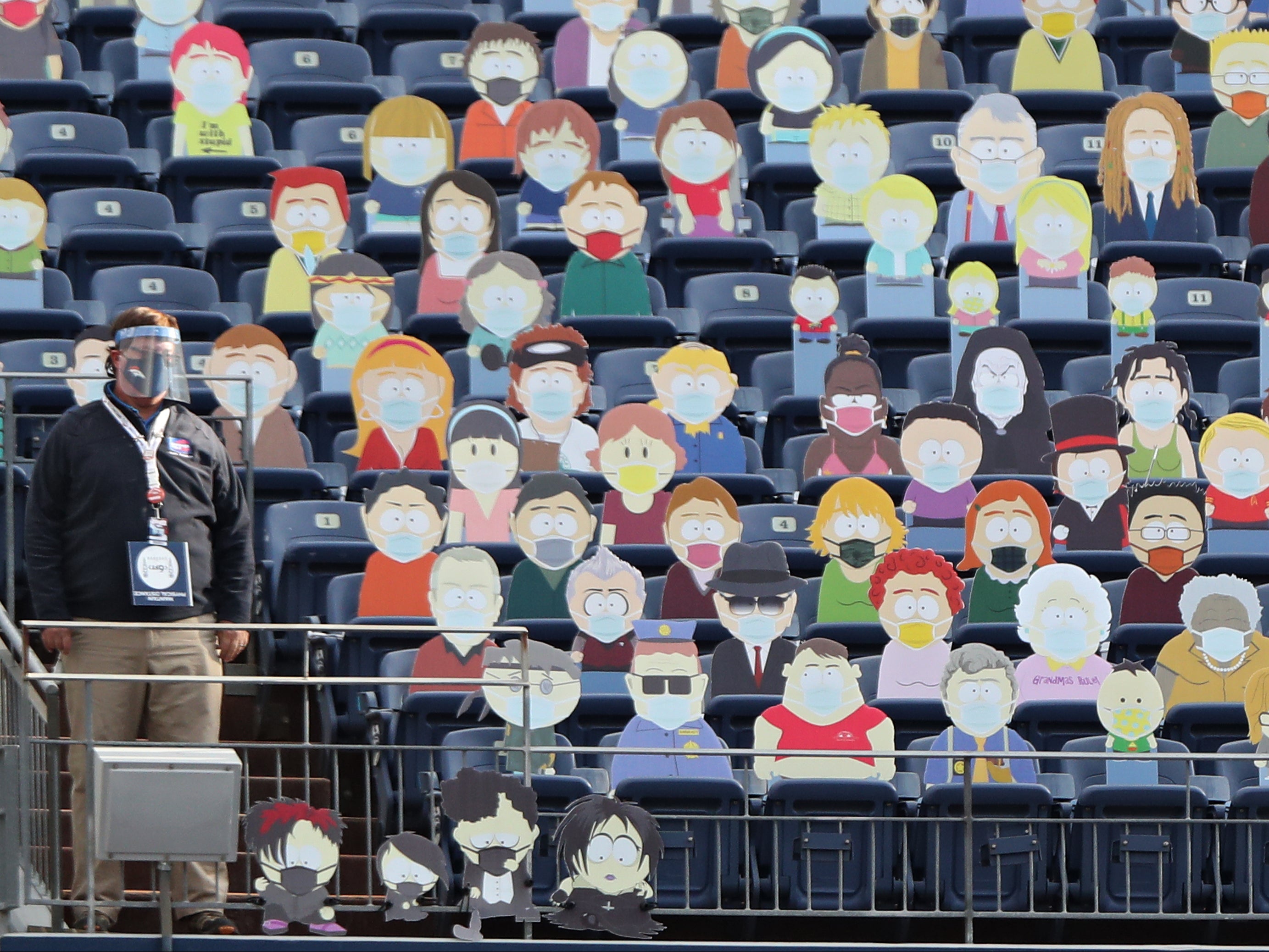 YouTube Reunions, Revivals and Reboots
Reunions were also a key transmedia trend in 2020. From their houses, actors connected with fans through different YouTube panels, songs, and table-reads. The YouTube channel Stars in The House, for instance, produced panels of the cast of The Flash, Star Trek: Voyager, and Melrose Place, among others, as well as remote plays and other entertainment during the pandemic. Much to the surprise of fans, even shows like The Nanny had casual reunions in the form of table-reads. The cast of High School Musical even reprised We Are All in This Together from home to inspire the fans in a difficult time.
Many celebrities connected these initiatives to fundraising. The executive producer of The X-Files, Frank Spotnitz, asked fans to submit lyrics to the theme song, which were then performed by the cast on YouTube. The resulting video compilation, Song in the Key of X, is a touching reunion of the crew. Recording from their homes, David Duchovny, Gillian Anderson and many others join from home to sing the fan lyrics: 'Deep conspiracies / Unsolved mysteries / Spooky UFOS'.
Zoom Fatigue to Wellness
While innovation has sparked because of these changes, it also went paired with negativity and overkill. "Zoom fatigue" became the buzz word of 2020, medicalizing this condition, pairing it with anxiety, exhaustion and fear of burn-out. Geert Lovink carefully unpacked this new phenomenon in The Anatomy of Zoom Fatigue, and writes: "Zoom fatigue arises because it is so directly related to the "bullshit job" reality of our office existences. What is supposed to be personal, turns out to be social. What is supposed to be social, turns out to be formal, boring and (most likely) unnecessary."
No wonder then that wellness products and media have skyrocketed during the pandemic.  luxury from home, online yoga classes, Others vow for minimizing screen time, creating a resurgence of the digital detox trend. Mindful media consumption and the creation of a strict media diet helped some deal with the uncertainty and make space for new hobbies. It's no wonder that pandemic baking, scrapbooking and meditation were also booming trends to counter the considerable media use. These wholesome activities also created a sense of bonding in a challenging time. Remember March 2020? One of the trending hashtags on Instagram was #isolationcreation to share bakes, paintings and crafting made in the early days of the lockdown.
Queer Media and Culture Revival
Fatigue and welness go hand in hand. During lockdown, Instagram shifted from a culture of happiness and sourdough bread, Annelot Prins notes, to one of grit, emotional realness and mental health discourses. We were pulled apart by exhaustion and collective depression on the one hand, and crafting and mindfulness on the other. An early lockdown article in Vice by Daisy Jones described lockdown culture aptly as lesbian culture, noting the parallels like DYI haircuts, gardening, nature walks and homemade cooking.
"One reason lockdown culture might look so much like lesbian culture is that it's kind of tied up with nature, with hands and with doing (everyone has gotten a lot more practical, a lot more DIY, because they've had to)"
But maybe there's more to this story. During these difficult times, queer media boomed especially. Schitt's Creek was dubbed the perfect pandemic sitcom. Praising the show, its LGBT+ themes, and its moods, Dr. Sa'ed Atshan writes on Advocate.com: "Schitt's Creek helped me get through this first stage of the pandemic — and kept any of my curmudgeonly instincts at bay." Queer Eye and RuPaul's Drag Race provided audiences with wholesome content, focusing on messages like inclusivity, community, empowerment, and personal development. Aria Bracci writes in Medium: "Demonstrating the power of connection, queerness has reemerged as a balm for quarantine."
Fan-driven business
eCommerce boomed and that also meant a rise of fantrepreneurs on Etsy, Amazon and elsewhere. Custom mouth masks of your fandom, wholesome fan art and beautiful prints, 2020 was the time to treat yourself. With most conventions being cancelled or virtualized, web shops became all the more important. Sports and music fandoms in particular suffered, but new business models also emerged there from virtual concerts to a surge in eSports.
Actors get involved
For better or worse, this was a time when actors showed that they cared about their audiences. From fund-raising to streams, they provided lots of entertainment. Whether it is Sam Neill playing his guitar or releasing lockdown movies on Twitter, or The Delta Flyers podcast by Star Trek: Voyager's Gareth Wang and Robert Duncan McNeill, actors delivered. Some initiatives were less cozy and more criticized, such as Gal Gadot's cover of Imagine featuring many celebrity cameos.
Hollywood Actors showed that they were willing to make difference, but at the same time many indie and theater actors struggled due to the cancellations of performances, shoots and events. This was a time of charity led by actors, but also for actors.
Virtual tourism and worlds
Virtual walks and tours became highly popular during the Covid-19 pandemic. Some of these were filmed on site and gave visitors a glimpse of the empty attractions and fairy tales at De Efteling theme park, or Ghibli's closed Museum. Simultaneously, virtual walks in video games were recommended by critics and fans.
Virtual worlds in particular helped consumers cope in this difficult time. In the real-time trendwatching by Pulsar.ai, Mapping the New Normal, the rise of gaming is charted in detail. Lockdown accelerated the engagement with games en masse, and amplified the conversations about them. Animal Crossing, Assassin's Creed and Red Dead Redemption helped consumers cope in this challenging time, both when they were playing them actively or watching them through live-streams on platforms such as Twitch. The rise of tweets and purchases of these products is notable.
Overall, games provided soothing and immersive playgrounds when audiences needed them most.
Hope you enjoyed this read and hang in there in these last weeks of 2020. Read last year's transmedia trend report here